CCS in the News
Courtney Consulting Solutions has been in the news lately. We have had great success in helping businesses learn how to do business with the Federal Government. Read some of the articles below that have have featured CCS or our Federal Government Consulting Team.
Article, "Meet the 2011 class of 40 Under 40 winners"

---
Article, "How to do Business With the Federal Government"

---
GreenBiz.com article, "A Crash Course in Selling Green to the Government"

---
SKIRT Magazine, Article About Erica Courtney
---
Florida Small Business Success Story
---
Oprah - Women Rule! A Crash Course in Changing the World
---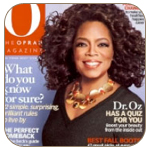 O,The Oprah Magazine - Erica Courtney featured in an article entitled "Tomorrow's Leaders".
---
The Veterans' Business Outreach Center: "VBOC Success Stories"
---
Florida Times Union article: "Jacksonville consultant helps clients court federal contracts."
---
FIU Magazine Article entitled, "Save the Rainforest, Save the World"
---
FIU (Florida International University) Business article spotlighting Erica Courtney